Cosmetic Dentistry in San Antonio, TX!
Your smile is an invaluable asset. If it doesn't match the confidence and beauty that you want to show off to the world, then cosmetic dentistry can help you get there. With this variety of services, you can improve aesthetic concerns, like discoloration, unevenness, and spacing, that are holding your smile back from being its best. If you're not sure which treatment is the best for your needs, request a consultation with Chandler Dental Center today, and we'll present you our recommendations based on your goals.
Request a Consultation

Teeth Whitening
At Chandler Dental Center, we have two teeth whitening options available: take-home teeth whitening and in-office treatments. With the former, we give you trays form-fitted to your unique teeth for you to take home and use. With the latter, we take care of the entire procedure in our office in a single appointment. Both teeth whitening procedures give you the possibility of dramatically whitening your smile.
Benefits of Professional Teeth Whitening
More dramatic results than store-bought options or home remedies
Safer treatment overseen by professionals
Minimized tooth sensitivity
Learn More

Veneers
Porcelain veneers are a popular option for designing dream smiles. This is because veneers offer a lot of customization when it comes to what you want your teeth to look like in terms of size, shape, spacing, and brightness. Veneers are thin shells of tooth-colored porcelain that are bonded to your teeth and completely cover them, changing their appearance permanently.
Benefits of Veneers
Corrected aesthetic concerns
Natural-looking design
Long-lasting option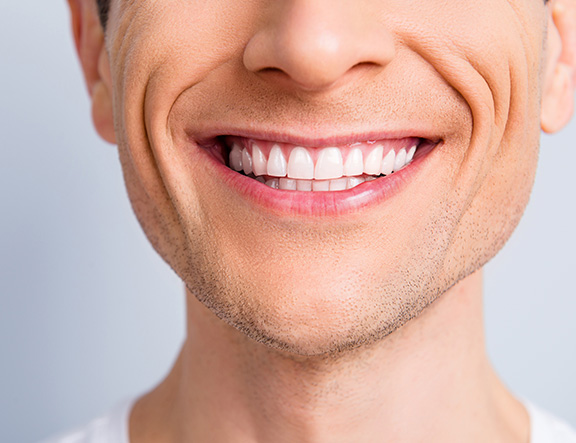 Snap-On Smiles
If other cosmetic dental treatments are out of your budget but you still want to improve the way your smile looks, Snap-On Smile® might be right for you. This removable appliance can cover your whole upper and lower arches, and it won't cause any damage to your natural teeth. Snap-On Smile can be placed and removed as needed.
Benefits of Snap-On Smile
Enhanced smile appearance
Affordable cosmetic treatment
Easy-to-use, non-invasive dental device
Schedule Online