Dental Veneers in San Antonio, TX!
If you've been feeling like your smile is in need of a change, porcelain veneers can completely transform the shape, shade, and spacing of your natural teeth. Veneers are effectively thin porcelain 'shells' that can be secured to the front of your teeth to change their cosmetic appearance. Chandler Dental Center offers high-quality smile makeovers to patients in San Antonio and the surrounding communities. If you're ready to schedule a veneers consultation with a cosmetic dentist near you, reach out to our office today!
Transform Your Smile
The Veneers Process
If you're interested in getting dental veneers it's important to keep in mind that it's considered a permanent treatment. That's why during your initial consultation we work with you to design the perfect smile for you. We'll help you determine the size, shape, and color you want before removing enamel from your teeth and reshaping them. Digital impressions of your natural teeth will be sent to a lab where your final veneers will be custom-made for you. During your next appointment, we'll test the fit before permanently bonding them to your teeth.
Maintaining Your Veneers
Veneers require the same level of attention that natural teeth do, so it's important to keep up your regular oral care routine. Brushing twice a day for two minutes at a time, flossing, and keeping up with regular dental cleanings and exams can help to keep your veneers in top condition. During your regular exams, we can also monitor them to make sure they're holding up well.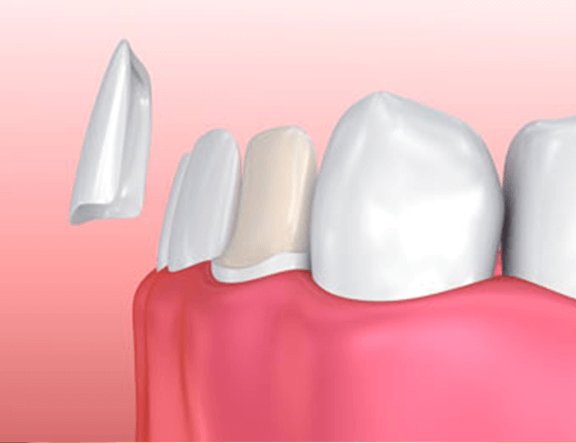 Dental Veneers FAQs
How long do veneers last?
Veneers are highly durable, and when properly cared for, they can last up to 15 years or longer. Grinding your teeth while you sleep can cause them to wear down faster, so if that's a concern for you, it can be worth getting nightguards to prevent wear and tear.
Can veneers be professionally whitened?
Veneers are naturally stain-resistant, but they aren't immune to staining or discoloration over long periods of time. Traditional whitening treatments can have a negative effect on dental veneers, so if you're concerned about the color it's best to speak with our team first.
How much do veneers cost?
The price of veneers can vary widely from patient to patient. We do strive to make veneers affordable for patients with a variety of flexible financing options. Visit our financial page to learn more!
Schedule Consultation