Snap-On Smile® in San Antonio, TX!
Snap-On Smile is a custom oral appliance that "snaps on" over a patient's natural teeth to instantly enhance their appearance. Patients can eat and drink while wearing their Snap-On Smile, which makes it a convenient alternative to other restorative and cosmetic appliances that have to be removed. For more information about, please contact our office!
Contact Us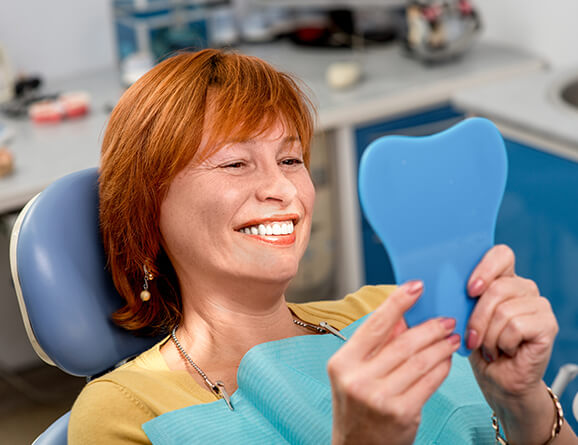 Is Snap-On Smile right for me?
Snap-On Smile is a great choice for many patients looking to enhance the overall appearance of their smiles. You may be interested in receiving your own if:
You have gaps from missing teeth or misshapen and/or discolored teeth
You cannot receive or do not want an implant or a bridge
You want an alternative to partial dentures
Other cosmetic and restorative options are too costly or invasive
What is the process for Snap-On Smile?
During your consultation, we will review your lifestyle, budget, needs, and preferences. We will also help you decide what you want your teeth to look like in terms of size, shape, color, and uniformity. Impressions of the teeth must then be taken to begin designing your custom oral appliance. It takes a few weeks to get Snap-On Smiles back from the lab, and then a follow-up visit will be scheduled. At this appointment, we will make any necessary modifications to ensure that your new appliance fits well and looks great, and then you are free to begin wearing it!
Should I get veneers or Snap-On Smile?
If you truly aren't sure which cosmetic option is right for you, we recommend scheduling a consultation with our team so we can assist. Traditional veneers are a permanent cosmetic dental option, they are more of a financial investment than Snap-On Smile, and they can be used to enhance one tooth or many teeth. It is completely removable and a more affordable option for patients who want a complete smile makeover. Our office provides both options to help our patients achieve their unique smile goals and feel great about the appearance of their teeth.